Xishuangbanna
Travel Advisors Give New CDC Air Travel Requirements Mixed Reviews
Travel advisor reaction to the Centers for Disease Control and Prevention's (CDC) announcement requiring negative COVID-19 tests from air passengers entering the U.S. was decidedly mixed, with some agents vehemently opposing the move and others applauding it.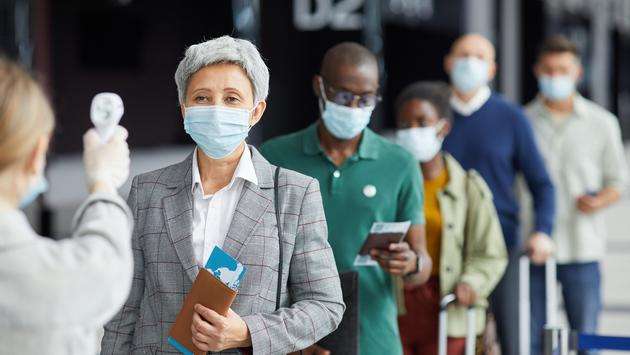 "I think this is the equivalent of shutting down the world," said Sarah Kline of Time for Travel. "This will cease travel and instill fear into anyone with future travel plans. "The spread now is not caused by travel. It's coming from across your kitchen table."
If a resolution or lift on the CDC order is not put in place within the next 30 days, Kline said her 2021 business will be obliterated. "No agency, airline, hotel or destination who relies on tourism can sustain zero business much longer. The CDC should've done this nine months ago – not now."
James Berglie of Be All Inclusive was also ardently opposed to the CDC order. "I think it's a gross government overreach and rather naive approach," he said. "There are many known issues with how the tests are conducted, and the fact that a false-positive could leave a U.S citizen locked out of returning to their home country is appalling."
As to how the move will impact advisors' business, he said that clients will be "lining up" to cancel their trips.
"We had just recently obtained a level of new business inquiries [putting us] where we were at before COVID hit, and now this new policy has the potential to put us right back to where we were in March," Berglie said. "Many in the industry were already hanging on by a thread, and this is likely to be the last straw, unfortunately."
The CDC requirement will also be problematic for travelers returning from destinations that are open to U.S. visitors right now, noted Claire Schoeder of Elevations Travel, an affiliate of Signature Travel Network. "I have several families booked to travel to Mexico after the rule goes into effect, so I am now talking with resorts about how to arrange the COVID test so that they can return," she said. "If countries cannot provide the testing and results within the given time frame, then people will simply cancel or postpone trips."
The first reaction Beth Rasor of Travel Daze had to the news was panic. "I have over 40 passengers leaving in the next two weeks who will be affected by this order. I am beyond disgusted that the CDC would release this order with such short notice," she said. "U.S. citizens are the large majority of visitors for many Caribbean destinations. If clients can't get affordable and accessible tests, they will cancel their trips or will stop booking future travel. Countries need time and resources to ramp up in destination testing."
Similarly, Ryan Doncsecz of VIP Vacations, Inc. said, "This can only be seen as a major hurdle and possibly one final devastating blow to travel agencies, airlines, tour operators, hoteliers, reservation systems, transfer services, tour companies and any other job related to the tourism sector both within and outside the U.S."
He added, "Please don't get me wrong – this is not a call to denounce COVID-19 and label it as a hoax or a slap in the face to the firm believers of 'we should be sheltered in place.' But simply put, this update is hypocritical, as we can still fly to Florida and other destinations in the U.S., which have a much higher shed and difficulty combatting the spread of the virus without having to present a negative COVID test."
Other advisors viewed the CDC ruling in a positive light. "I think this is a great start and I am excited at the thought that travel can be safer and might start slowly increasing again because people see the additional measures being taken," said Miki Taylor of Taylor & Co. Travel. "Those of us in the industry are dying for this, and so many people want to start traveling again, so it is something to be positive about for our industry."
Cal Cheney of Bucket List Travel and Tours referred to the CDC order as a "no-brainer."
"While it is not perfect, the key is to make travelers feel safe," he said. "I do, however, believe that it should be either a COVID-19 test or proof of a vaccine. This should increase consumer confidence and help prevent mutant strains from entering the country."
Antoine D. Wilson of A.D. Elite Travels also believes the CDC order is a move in the right direction. "I think it'll help minimize new cases entering the U.S. and give the country a chance to eliminate current cases throughout the U.S. I do feel, however, that it will put a strain on passengers to find a place for testing, prior to returning home," he said, adding that he thinks more COVID testing facilities will be put into place at airports throughout the world.
Stephen Scott of Pro Travel International-TravelHub365 said he hopes "this is a short-term solution to our bigger problems with the virus spread and deaths, which have dragged down our industry."
"If this had been enacted months ago, we would have had less people coming into our country from hundreds of airports after catching the virus overseas," he said. "They may have left fine, but could have come back sick."
Meanwhile, many travel advisors believe the CDC ruling raises questions that have yet to be answered.
"My initial reaction is disappointment in the CDC for such vague information," said Klein of Time for Travel. "The statement left me with my head spinning with questions and scenarios."
Jennifer Doncsecz of VIP Vacations, Inc. pointed out a Wall Street Journal article that reported destinations where testing is limited could apply for a waiver of this policy. "My thought would be destinations like Antigua and St. Lucia that require pre-testing before arrival and have a very low percentage of population that has had COVID – lower than most cities in the U.S.," she said. "Would they be able to get a waiver from this policy?
"Additionally, the CDC is saying even if you are vaccinated, you still need to take the test – so in time, when there is a higher ratio of those vaccinated, would this be waived too?
"Finally, the airlines are the ones who will be implementing this, so are they coming out with pre-flight rapid tests?" Doncsecz asked.
On a brighter note, Klein believes when the dust settles from the CDC order and other issues related to the pandemic, the importance of agents will never be more clear.
"All those people who didn't give us a second thought and booked online, shopped us and booked themselves or choose an Airbnb instead of a rated hotel – best of luck," she said. "We will now be valued and trusted as a source that can fix problems, provide guidance and fight for them. On the other side, it will be a renaissance for the travel agent."
Eric Bowman contributed to this report.