Lijiang
The Foodie Paradise That Is Palm Springs
A recent trip to the Southern California jewel of Palm Springs included a lot of what I'd expected—stunningly blue skies, mountain vistas at every turn, plenty of glorious pool time, and a fun vibe of mid-century modern architecture and aesthetics. But where I sold this city short was on the food. We were thrilled to discover what a blossoming foodie town Palm Springs turned out to be.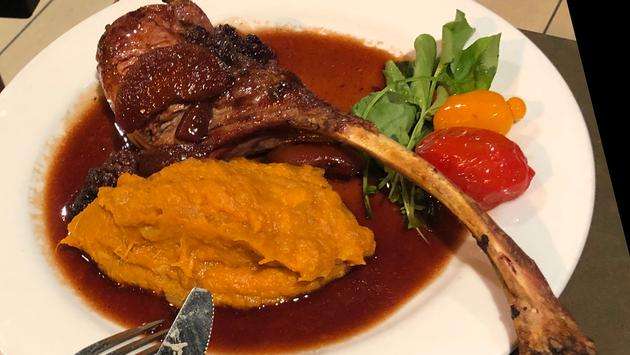 Here are our top ten favorite spots, where we enjoyed a great variety of cuisine, plus more than a few splurges on drinks and desserts.
1. Kaiser Grille Palm Springs , right in the heart of downtown, looks like a fairly typical restaurant with indoor/outdoor seating when viewed from the street. But once inside, the experience is taken up several notches, thanks to owner Lee Morcus' meticulous oversight and an attentive wait staff. The (super-cool digital) menu here includes some amazing cuts of meat, wonderful sustainable seafood options, pasta and more. Everything from the house salad to the enormous—and succulent—pork chop was prepared to perfection. Don't pass up the yummy Pink Cadillac margaritas, which get their color from the prickly pear cactus.
2. Our dinner at Eight4Nine was very memorable, and it wasn't just because a reality show episode was being filmed at the other end of the patio (only in California!). The food, the ambience, the service here was all top-notch. Located in the Uptown Design District, Eight4Nine pleased our palates with a delicious smoked chicken sandwich (the apricot chutney and brie combo was divine!) and chicken Milanese. But it was the caramel macchiato cake that kept us talking for days afterward, one of the highlights of the trip!
3. Grand Central is busy all day long, but this centrally located spot is perfect for brunch. With inside and sidewalk seating, the former department store space is fun and engaging, and super casual. The in-house-made burger was juicy and delish, and the banana-stuffed French toast was a real treat, especially with the accompanying coconut syrup. (Yes, we came back a second time, it was so good!)
4. The menu at Zin American Bistro is so good, I could go on and on, but I'd be remiss if we didn't focus on the incredible Zin Bites appetizer. This crispy puff pastry is stuffed with bites of filet, goat cheese and a Zinfandel shallot reduction—they came highly recommended, and they did not disappoint! The menu here is seasonal and includes plenty of local ingredients. Whether you opt for the chicken schnitzel or the XXX white cheddar mac and cheese, you're in good hands.
5. Lulu California Bistro , celebrating its 10th anniversary, is a fun, colorful spot right in downtown Palm Springs. The restaurant's brunch special is legendary and worth the wait; for $19.99 each, we enjoyed a three-course brunch, including an appetizer, entrée and dessert. For a bit more, enjoy mimosas, bloody mary's or your favorite cocktail. Our faves were the delicious and light calamari, the chicken tenders, strawberry Belgian waffle and signature triple chocolate cake.
6. We had a festive lunch at the Tommy Bahama Palm Springs + Marlin Bar , with plenty of outside seating — and umbrellas and misters to combat the desert heat, always a thoughtful addition. Try the mind-blowing array of fun tropical drinks (they even sell a brilliant recipe book for their drinks and food!), and make sure to start with the Pineapple Paradiso, a nice sweet way to start. Standouts here include the coconut shrimp (I'd buy the accompanying papaya-mango chutney by the gallon if they sold it), the blackened mahi mahi tacos and the chicken mango salad.
7. The vibe at MidMod Café , where we stopped for lunch, was funky and cool. Greg Schmitz, the owner, tries to keep it a little bit country, a little bit cool and a little bit zen. We enjoyed the Vietnamese rice bowl with chicken and the grass-fed beef burger, both quite tasty! But the drink menu here is really fun, too, with options like gingered lemon and green goddess juices and a spectacular vegan date shake.
8. At Roly China Fusion , also in the Uptown Design District, we found a nice mix of Asian food with a twist, and a great bar area to boot. Start with a Yuzu gimlet, mixing cucumber and lime flavors, and then proceed on to one of the filling entrees such as the green curry chicken in a clay pot. My fiancé found it just the right amount of spicy with great flavor. The sweet and sour chicken was smokier than traditionally found in Asian restaurants here in America, but it was addictive.
9. Trio Palm Springs calls itself desert casual, and after visiting this busy spot, we'd concur. Outside seating is plentiful here, and we enjoyed people watching while sipping on delicious cocktails: Forever Marilyn (fruity, tangy and lightly sweet) and Buddha's Only Sin (light and lemony). The chicken piccata and salmon entrees were very filling and just what we'd hoped for, but it was the bacon-wrapped dates appetizer that really blew our socks off. Don't pass them up!
10. We're big fans of Mexican food, so we were excited to try Las Casuelas Terraza in downtown Palm Springs. I was amused that they served my margarita in a martini glass, but given the fact that it was very good and enough for two to share, why complain? The restaurant has a nice vibe, traditional menu, friendly staff, live nightly entertainment and a Tequila Hall of Fame! Add in the warm chips and yummy salsa, and what more could you ask for?