Xishuangbanna
The end of Mexico: looking for the Mayans
Days: 7 days time: December
1 Cancun, New York
two
Intercontinental president Cancun Resort
4 Playa de Carmen
5 ruins of qiqinica ancient city
6 Merida Campeche
There is no itinerary for day 7~
Show all 7 days away
Day 1
2012-12-17
first day  ( Dec   17,2012)。 Mexico gave me a big sun for a child who came from an ice village with more than ten degrees below zero. Cancun is indeed a well-developed tourist city. Tourists living in the hotel area feel a strong Mexican style, with fine sand beaches and lazy sea breeze.
Day 2
2012-12-18
There are two kinds of tickets, including a meal and snorkeling tools, or only tickets and transportation. The difference between the two is about $20 or $30. You can bargain with the travel agency of the hotel, usually there is a 10% discount.
the second day  ( Dec   18,   2012)。 There are many theme parks around Cancun, including adventure, snorkeling, zoo and performance. In order to understand the hard work of Tchaikovsky in the next few days, Xiao Feilu decided to change her itinerary to experience the fun of Mexico theme park. The park we went to is called xcaret, which is full of activities in several parks. Underground river rafting, snorkeling, animals, performances, all can experience one.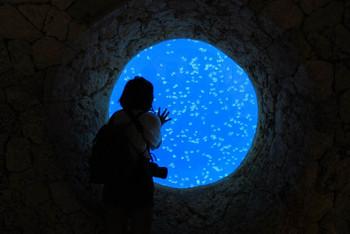 Day 3
2012-12-19
Day 3 (DEC)   19,2012)。 After changing the plan again, this day became the only time for us to be intimate with the sea, blue sky, white waves and fine sand. Unfortunately, the weather in Cancun is more changeable than that of women. It's sunny, cloudy and rainy. We have no time to lie on the beach. After waiting for a long time, the sun finally showed a small face, thinking that we could make complaints about several beautiful pictures. Unfortunately, the photo technology of Xiao Fei Lu was ineffective.
The rooms and facilities are very good, but the communication skills of the staff are poor.
Day 4
2012-12-20
There are a lot of people queuing up to buy tickets.
Day 4 (DEC)   20,2012)。 This should be the best day of the trip to find Maya. Tulum, about 170km away from Cancun, is the only Maya site with sea view, but it is also relatively small in scale. By the time we drove to Tulum, there was a long line at the ticket office. The entrance of Tulum scenic spot is far from the parking lot, about 1km away. Tulum's most eye-catching feature is not the ruins or the sea view, but a lizard that only basks in the sun.
It's too commercial, and seafood is not as good and cheap as you think.
After Tulum's trip, we stopped by to playa   de   Carmen  ( Carmen is said to be a beautiful seaside town. It's a pity that Carmen gave us disappointment as well as disappointment. It's a commercial street with made on both sides   in   All kinds of products from China make you feel like you have entered the ancient town of Dayan in Lijiang.
Day 5
2012-12-21
Don't go on the day of the end of the world. There are too many people.
Day 5 (DEC)   21,   2012)。 This day is the end of the world in legend. It was also on this day that we came to the pyramid where the doomsday prophecy was discovered - chichen Itza. Maybe everyone wants to find out on the day of doomsday prophecy, and the whole scenic spot is full of people. Groups of people dressed in white, claiming to be descendants of the Maya, sat around, doing some strange yoga like movements. Unfortunately, the Maya did not take them away in the end.
The whole site always reminds me of the architectural style of Angkor Wat. The same stone buildings, the same steep stairs, and the same worship of snakes. I really feel the similarities of early human civilization.
Day 5 (DEC)   21,   2012)。 After going to chicen Itza, we drove to Merida the same day. Because there is no GPS, relying on Google Maps screenshots, and mobile positioning. We walked around Merida city center and stopped the police several times. After watching numerous Mexican documentary films, we finally found the hotel long after the sun set.
Day 6
2012-12-22
The old city of Merida is smaller than expected. Although many buildings are very exquisite, there are still some disappointments.
Day 6 (DEC)   22,   2012)。 Maybe we are used to being free and loose, and the departure time every day is always later than the booking time. This morning, I finally got up not too late. I strolled leisurely in the old area of Merida to feel the Spanish colonial customs. There is a strong European sentiment in the old district, mixed with the unique cultural and religious atmosphere of Mexico. Merida is a city with more tourists, and all kinds of globalization products can be seen everywhere.
Campeche is my favorite place on this trip. Colorful houses, European style churches, mottled ancient city walls, mild sea breeze and clean streets make up an incomparably beautiful painting.
Day 6 (DEC)   22,   2012) after leaving Merida, we came to Campeche. This time we went to find a hotel, which made me feel good for Campeche. Campeche is a small seaside town and a place where the architectural style of Spanish colonial period is well preserved. It's nearly six hours' drive from Cancun and relatively few tourists.
Campeche is a small and fresh city with small literature and art. The houses are small bungalows lined up, painted in various colors. The end of the old area is surrounded by the city wall which has a history of more than 300 years and is listed in the world cultural heritage, just like an isolated world. Walking on the streets of the old city, buildings, colors, and the beetles of the 1980s and 1990s will give people the illusion of walking in a small Italian or Spanish city. There are also some shops selling unique souvenirs, and some restaurants and bars with unique styles in the old city. Because the day we went was Christmas Eve, most businesses were closed. Only a few scattered in business, the whole old city empty, there is a kind of unspeakable loneliness.
Day 7
2012-12-23
If you want to get close to the Mayan ruins, Koba is an indispensable place.
Day 7 (DEC)   23,   2012)。 Going to Coba is a very sudden feeling. Originally, I planned to go back to Cancun on this day. When I was writing a postcard the night before, I suddenly found that there was a picture of a Mayan site that could be climbed on it. After asking Google, we found out that there is a site called Coba not far from chicen Itza. Bobo said that it was boring to go on the road one day. We felt that we had wasted our time, so we decided to go to Coba. Twice along the way, he was stopped by the police uncle. When he asked Coba how to get there, they gave us a puzzled look. We thought, maybe Coba is not a hot spot. However, when I arrived at the gate of the site, I found that there were not many people. It seems that we all want to climb the Mayan Pyramid and get close to the Mayans.