Dali
Royal Caribbean To Operate Homeport in Barbados for First Time
Royal Caribbean International will operate cruises from Barbados for the first time starting in December 2021.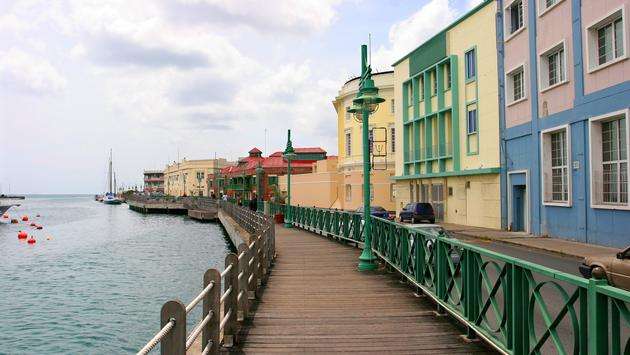 The Grandeur of the Seas will operate three seven- and 14-night Southern Caribbean itineraries from Bridgetown. The program includes three new ports of call for the line to Tobago, Trinidad and St. Vincent.
The weeklong sailings will visit a different destination every day or offer late-night stays in the ABC islands – Aruba, Bonaire and Curacao. The longer voyages include an overnight stay in Aruba coupled with visits to Colombia, Panama and Costa Rica, among others.
"We are excited to grow our long-standing partnership with Barbados and introduce Bridgetown as Royal Caribbean's newest homeport," said Royal Caribbean President and CEO Michael Bayley. "Sailing from the heart of the Windward Islands unlocks new memorable vacations to share with family and friends in breathtaking places, such as Grenada, St. Lucia, and now St. Vincent, Trinidad and Tobago."
Lisa Cummins, the minister of tourism and international transport for Barbados, welcomed the cruise line.
"After the year the industry and region have had, this is a shining light to look forward to this coming winter season," Cummins said. "We have wanted to see for some time more homeporting operations from Barbados, the incorporation of pre- and post-stay vacations which expose cruisers to the best Barbados has to offer and at a regional level, and the development of new itineraries that elevates the cruise experience throughout the Caribbean."
Spanning 166 square miles between the Atlantic Ocean and Caribbean Sea, Barbados is affectionately known as "Little England" and features natural and cultural heritage. The island's 11 parishes offer a mix of coastal, rural and urban neighborhoods, some sophisticated and luxurious, others immersive and based in nature.
The new 2021-22 winter cruises from Barbados are open for sale. The itineraries depart on Sundays.
The seven-night "Southern Caribbean Island Hop" visits Scarborough, Tobago; Port of Spain, Trinidad; St. George's, Grenada; Kingstown, St. Vincent; Roseau, Dominica; and Castries, St. Lucia.
The seven-night "Southern Caribbean Adventure" visits Grenada; Kralendijk, Bonaire; Oranjestad, Aruba; Willemstad, Curaçao; and Trinidad.
The 14-night "Ultimate Caribbean" visits Grenada; St. Vincent; Bonaire; Aruba; Curaçao; Trinidad; Cartagena, Colombia; Colon, Panama; and Puerto Limon, Costa Rica.