Dali
My travels to northern Europe spring of 2014 - in Oslo
Days: 18 days
Per capita: 3000 yuan
With whom: with parents
Play: photography, self driving, food
The author went to these places
Norway
Reykjavik
Published on June 17, 2014 13:02
Today's departure, destination Norway. It's my third trip. I'm not too nervous, but I always have to take care of my parents.
Security measures are said to be strict, so I specially set out one hour earlier. As a result, everything went well. I went to the airport in a daze.
Because I wanted to drink beer in Munich on my return trip, I chose the unfamiliar Munich Airport to make a connecting flight, adding a new bag and a pile of effervescent tablets. So will spend money, a little guilty in the heart, trying to convince themselves that the new bag is for the lonely purse bought from Spain earlier.
After entering Munich, he was asked to show his return ticket and hand over a pile of ticket orders to the handsome guy in the customs. The handsome guy has a line of black lines: "are you a team tour guide?" I'm speechless. I'm just taking my parents with me. This trip is quite complicated. I'm too lazy to find my return ticket. I just threw it to you
Arrived in Oslo, parents excited, did not leave the airport to buy a pile of chocolate, said to eat on the road. Sigh, just the first day to add so many new things!
Take the airport bus to the city, along the way to see a few beautiful women dressed in gorgeous national costumes walking on the street, Dad excited: wedding ceremony! Take photos quickly; After a few blocks, I see another group. Is it a group wedding? When we get to the downtown area, men and women dressed in ethnic costumes are not necessarily all the residents of Oslo ready to look for spring today? Check online, National Day... It's really good luck! Mom is crazy. All the stores are closed.
During the new year in Oslo last year, the streets were cold and windy, the roads were icy and the people were sparse. Today's Oslo mountains are full of people and flowers. I can't help feeling that when the spring breeze blows, it is not only the colorful flowers that wake up from the deep sleep, but also the Norwegians who have disappeared for a winter.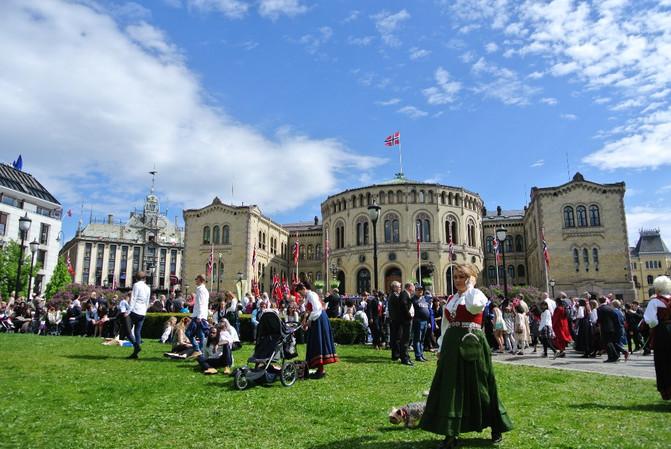 I always feel that there are so many handsome men in Oslo. This time, I once again confirmed this view. And each dress or national dress, more handsome incomparable. It's a pity that I'm shy and I'm sorry to take photos of them. I can only take some side and back photos. What a pity!
Dinner as usual is not landing, there are queues everywhere, so delicious hot dog has become a straw to save lives.
The next day, some of the shops finally opened, harvesting a sweater from dad.
I went to Reykjavik by Icelandic air. I don't know if it was because the ticket was cheaper or the airline was a low-cost airline. I had to charge for food and everything. Fortunately, soft drinks were free, so I didn't die of thirst because I was stingy on the way.
Icelandic airport is full of people. The people who pick up the airport, rent a car, and don't know what to do... We rush to the currency exchange point without any money. Mom took out a stack of dollars from her bag, I sweat... It's really bold to take out so much cash in front of so many people! Fortunately, Iceland, if you go to Italy, will be followed by a group of tails.
The airport bus can choose direct delivery to the hotel (with extra charge of course). This kind of service is quite good. Although the hotel is not too far from the bus center, the mother with her luggage will definitely get angry.
It's nice to rent a small apartment with one room and one living room and a full set of kitchen equipment! The price is reasonable, but not cheap.
I bought a lot of food in the supermarket next door. I got lost on my way back. The whole family lost their way! What a terrible family disease! It took 10 minutes to find the apartment next to the hotel. The reason for getting lost is very simple. There are two doors in this supermarket.
Reykjavik doesn't have many scenic spots. After visiting the cathedral, he decided to go home and cook. Dad continued to walk through the fish bone statue, opera house and duck lake, and took photos. It's a visit here.
In this not too big city, what impresses me most is the fat cats all over the street. Also not afraid of people, self-management in the streets and alleys rambler, or drill into the wheel under heating. Several times, walking slowly, they met with me who lost my way, and they were scared.
In the cathedral, I lit candles to thank God for giving me a clear sky. Of course, I didn't forget to ask God to continue his generosity and give me the fine weather the day after tomorrow, the day after tomorrow, the day after tomorrow, the day after tomorrow, the day after tomorrow.
An episode about time
Iceland, the eternal day of summer, I came here at the end of May. Looking out of the window, it's still early. My family is reunited in the living room. My father looks at the photos and my mother calculates the cost of the day. Of course, I'm surfing the Internet. Suddenly I heard that my father was snoring like thunder, but he had already fallen asleep; Mom yells headache, blood pressure rises, the account is not clear. Look at the clock, suddenly, midnight, in addition to the never night owl I am energetic, usually used to go to bed early parents should have a dream of Zhou Gong.