Dali
9 days and 8 nights to savor the super detailed itinerary and d800 map of zuimei Yunnan (Dali Shuanglang Lijiang shangri la)
Recommended accommodation
Dali double corridor half moon towing blue water scenery elegant courtyard ¥ 1143 immediate bookings >
Letuju Inn (Shangri La Guangdong Club) ¥ 248, book now >
Lijiang annual ring Inn ¥ 139 cases of immediate booking >
Launch more hotels
Published on November 14, 2013 at 11:13
I have been planning this self-help tour with a classmate for a long time. Finally, I got the consent of my parents who were not at ease. One month in advance, I had all the air tickets, hotels and itineraries reserved on Ctrip. For the first self-help tour on a long journey, I was very excited and nervous. Maybe I was too worried. Three days before the trip, I quarreled with a classmate to let me carry more luggage, No matter how thoughtful and comprehensive you are, there will be accidents. Anyway, this trip makes us understand and trust each other more. I think this is the meaning of travel! Hey, hey, don't be wordy. Start sorting. I tried to write travel notes for the first time, but I didn't write it well. I'd like to give you a reference.
Itinerary: Beijing Kunming Dali (2 nights) - Shuanglang (1 night) - Lijiang (3 nights) - Shangri La (2 nights)
——Kunming - Beijing
Nine days and eight nights. Thinking of going to Yunnan again, Kunming only takes a turn.
Cost: 12978 yuan in total, 6500 yuan per person, no control.
4. Air ticket: 3254 yuan * 2 = 6508 yuan
Beijing Kunming 1070 yuan
Kunming Dali 334 yuan
Diqing Kunming 620 yuan
Kunming Beijing 1230 yuan
8 days: 2086 yuan. Dali (Luoshi Yi Inn in Dali for 2 nights) 140 yuan
Double corridor (1 night and half a month to drag blue) 990 yuan for luxury
Lijiang (No.10 Inn of Lijiang ancient city for 3 nights) 160 * 3 = 480 yuan
Shangri La (2-night letuju, also known as Guangdong Club) 218 * 2 = 476 yuan
The remaining 4000 or so are basically meals and tickets.
Day1, borrowed three days of Mid Autumn Festival holiday and asked for three days of half a year's holiday, which became a nine day long holiday. In the morning, I was still in a meeting to study. In the evening, I came to Dali by Erhai Lake. I grew up in good manners. I never wanted to do such a crazy thing, but it happened! Discover the unknown beautiful Yunnan trip to start like this! The content of the first day's activity is to go on the road, the airport is very busy!
Take off from Beijing to Kunming at noon, then transfer to Dali directly. Dali we ordered Dali Luoshi Yi Inn, stay for two days with pick-up service. Originally, it was 140 days, and all the orders were placed. As a result, we called again to say that the guest didn't check out on time or was sick. So we arranged for another inn of the same specification. Because of the breach of contract, we had to discount the room price. 140 days later, we also took the pick-up plane. We went to the place to have a look, and the room was not bad, so we stayed. Dali airport to the ancient city about 45 minutes, a taxi to 100 yuan.
The photos are chaotic, including those taken by mobile phones, those taken by d800, and those taken by d800 into small films. There are also microblogs edited by mobile phones.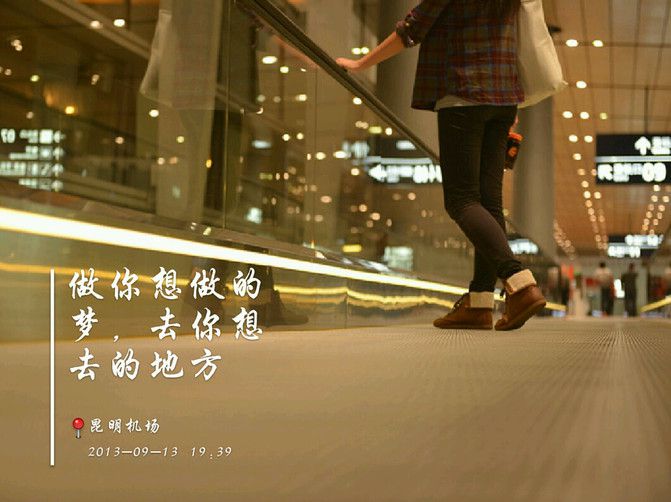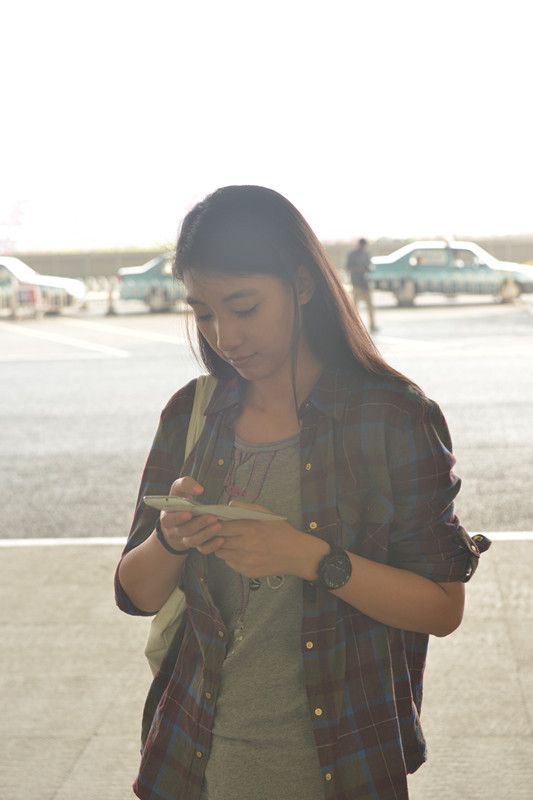 I'm the shy heroine. My old stubborn Mr. A is my photographer + bodyguard + Wallet + Cook + porter. He strongly opposes putting photos, so he has no choice but to do it.
Day2. The first day in Yunnan starts from a night of bait silk. In fact, the bait silk is sticky and some people can't get used to it. Besides, the milk fan is hard. Yunnan people have good teeth. I think rice noodles are better! This day to catch up with Dali's good weather, sunny day, cloudless, just like our happy mood. At eight o'clock in the morning, we packed a seven seat 100 yuan car at the gate of Dali ancient city. Because it was off-season, the master took us to Xizhou ancient town, Zhoucheng, and Santa temple. These three places can be played around in half a day. We went back to the ancient city at more than 3 p.m. We went back to the hotel for a rest and visited the ancient city of Dali. When I sorted out my account book, I found that I bought cold chicken noodle, sour plum soup, Dali impression yogurt, Xianyu ice, beer, kebab, papaya water. The key is that after lunch and dinner, who will gain weight if you don't gain weight!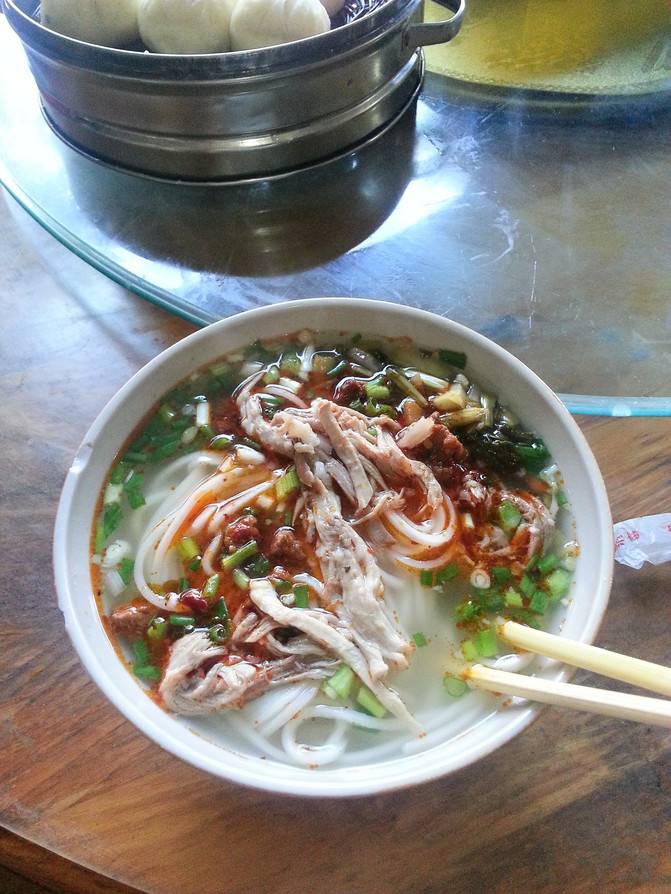 Baisi, it looks like rice noodles, but the taste is totally different. 8 yuan a bowl, at the gate of Dali ancient city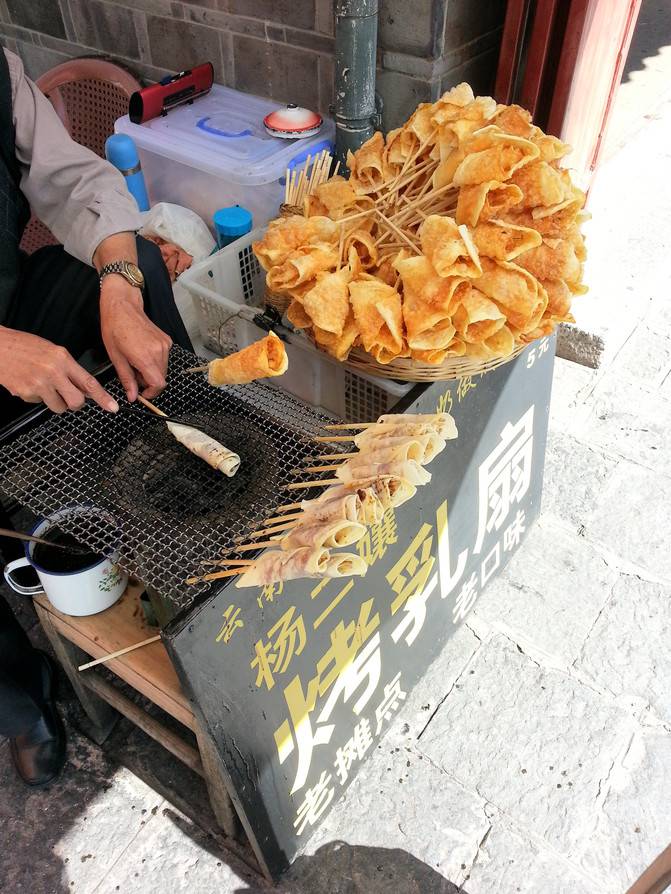 The rose sauce of the milk fan brush.. What a sweet sauce! I can't chew.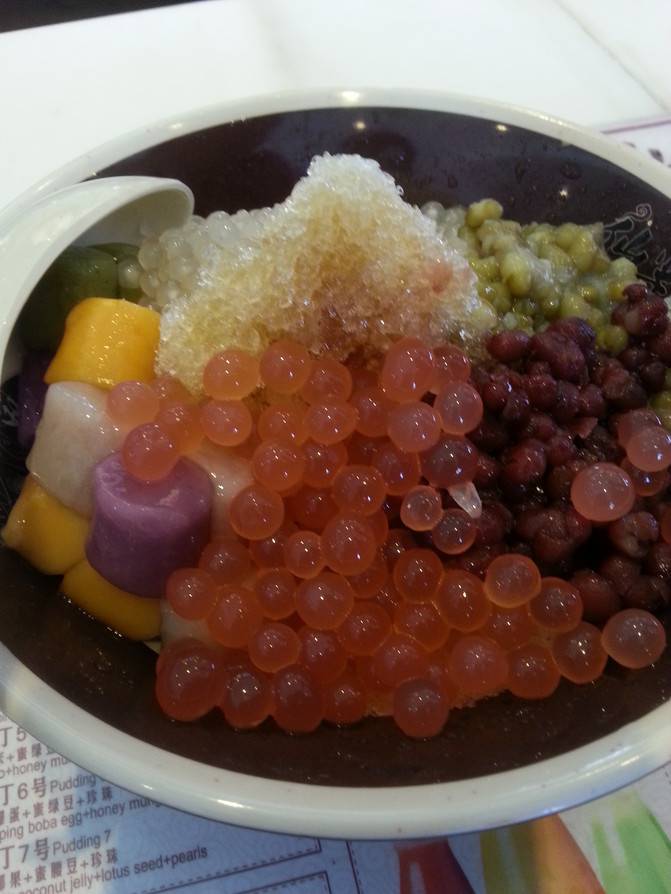 This is the Xianyu family in Dali pedestrian street. The brand of Shenma shaved ice is delicious. When we went back to Beijing, we went out of our way to find one in blue harbor. Unfortunately, we changed the name of the shop in October, and the food was not as sweet and delicious as before. It's really a big bowl for two.
A classmate playing on the stage. Oh..
The ancient town of Xizhou in the morning is divided into two parts. One part is the 60 people who need to spend money to get in, and the other part is the people who don't need to spend money. We went to the living area where we didn't spend money and strolled around in the morning. Xizhou is famous for Xizhou Baba, which is similar to Shaobing. I told Mr. A that I wanted to eat Xizhou Baba. Mr. an pointed to a lump of dogs on the ground and said, eat it. Ah. Zhoucheng is famous for pad dyeing, which sews up the dyed cloth so that the dye can not be dyed, and then starts to dye to form various patterns.
Three Pagoda Temple in Ctrip set a good ticket 90 yuan, the original price of 120, local people to sell tickets to 100. The three pagodas temple is built on the back of Cangshan Mountain. Apart from the three pagodas, we can walk a long way up the mountain, but they are all new buildings. When we get to the last building, we can see Erhai Lake and Dali in front.
Do as the Romans do, bought a scarf in Dali, Xiaolan 15 yuan, it will accompany us behind all kinds of camera!
Look at the multi-functional use of scarf, but also sunscreen! I'm the little witch roar! It was here that we met the girl in Xi'an and later in Lijiang.
In the evening of Dali, the sun shines through the clouds on the top of Cangshan Mountain, scattering colorful light, warm and comfortable. It makes people feel that this is a small city blessed by nature and gods. Maybe many young people like this feeling, and many travelling and wandering people stay here. In the setting sun, sitting in the alleys of the ancient town, there are stalls selling handicrafts and chatting with tourists.
A student thinks it's a good picture. The rapist!
Unknown food.
DAY3。 It's still 120 yuan for the seven masters yesterday. It's less than an hour's drive to the legendary double corridor. It's beautiful, with golden paddy fields, green Cangshan, white Yunnan folk houses in the distance and sparkling Erhai Lake. I can't help but ask the driver to stop. Midea wants to fix the time. Many people choose to ride around Erhai Lake for about eight or nine hours.
This is the double corridor half moon blue 301 sleeping cloud that was ordered one month in advance. The room is not big and has a small balcony. The scenery is wonderful. There are many good inns in Shuanglang. They are too popular now. They often cost eight or nine hundred, but the key is that they can't be ordered yet! If you want to go to a friend, you must make it early.
The sky is not beautiful. It's overcast as soon as we arrive at the twin corridors. It's raining heavily in the afternoon. Half a month later, we're five minutes away from the famous photo taking place in Haiti. Go and take photos! Here we met a group of photographers, four or five people, a row of cameras on the table, 99 yuan, 100 photos. They said that they were photographed all the way from Tibet. If they made some money, they would go on. This is also a good way to travel.
In the afternoon, we rented an electric motorcycle and started a rough ride in Erhai Lake. First, it rained heavily in less than 15 minutes and had to take shelter from the rain. Then, when the rain stopped, he set out again. He was hungry, cold, and in the rain. His makeup was spent, and his hair and clothes were wet. But he still insisted on driving to the end of color digging. Finally, in the dark, he drove back with a flashlight at a speed of less than 10 kilometers per hour and almost ran out of electricity. God knows how far the color digging is, It takes 40 minutes to ride an electric car one way! One foot of the mountain, one foot of the mountain, never ending.
Double corridor terror big spider!!
In the evening, I had a barbecue at the Bai People's home. It was warm. The live shrimps from Erhai Lake were roasted directly, and they were still dancing on the fire. So a classmate developed diaomei drunken shrimp, which was soaked in wine and then roasted.. I went to bed early that day. There was no street lamp in the double porch. At night, it was black and there were big spiders and rats everywhere. Girls should not run around at night. I don't feel safe.
DAY4。 In the morning, I strolled around the ancient town of Shuanglang. One day ahead of time, I put together a car in the inn to Lijiang. Shuanglang is a small town, and there are few coaches to and from. Basically, this is a carpool to Dali, Lijiang and other places. People leave their destination time and number on the blackboard of the inn, and they will contact you. Don't worry about the traffic, The two of us, a couple from Shanghai and two girls from Guangzhou went to Lijiang together in a car. We had a happy chat and soon arrived in Lijiang in less than four hours
We found this brand all the way from dajianpang village, and walked for more than half an hour.. The accommodation and entertainment conditions in Shuanglang ancient fishing town are better than that in dajianpang village where we live. Compared with Lijiang, I still like the quietness and simplicity of the twin corridors. Although it is still a big construction site, I made an appointment with a classmate to visit the twin corridors when we are old and retired!
It's a bit like Beijing Houhai
Unknown wedding photos of young couple.
Lijiang's Bar Street, night clouds, gongs and drums, beautiful and handsome gathered, like this tune of students, don't miss.
From the quiet double corridor to the boiling Lijiang, the streets and alleys are filled with Lijiang Xiaoqian's "a moment", which is very annoying. Now I think of the reason why I was so anxious at that time, it's because I'm high against myself, but I don't know! In the evening, we had a big meal in amayi restaurant, including preserved spareribs, poplars, rice enema and stir fried meat.. It tastes good. It's a pity that I vomited all my high reflection in the evening.. A classmate summed up the three customs of Lijiang, love affair, preserved ribs and instant.
DAY5。 This day is really helpless and uncomfortable for me. At night, I vomited and pulled. When I got up in the morning, McDonald's finally vomited clean and went to all the toilets in Yulong Snow Mountain. He was too weak to climb to the top of Yulong Snow Mountain or take a good photo.
Yulong Snow Mountain scenic spot is half an hour's drive away from Lijiang. We didn't report 500 or 600 regiments, so we went to the legendary bus No. 7, but in fact, there is no no no no No. 7 at all. It's all local people who take them to Yulong Snow Mountain and don't even give tickets. Don't be fooled by the cheap price. We go to the traffic police and falter. To be on the safe side, we packed a taxi with a couple we met, fifty each, waiting for us at the foot of the mountain for a day. Set up your down jacket and oxygen on the way.
Up here, I'm out of breath and my lips are purple. It's difficult to walk one more step. The two bottles of oxygen I bought are completely absorbed. I had to let Mr. a climb up by himself.
I've been so virtuous since I went down the mountain. What else do I look like? I'll walk ten steps and sit ten minutes. This half bottle of oxygen is still the half bottle left by the couple I met on the road. I'm dying. I can't really appreciate the beautiful blue moon valley behind me. Blue Moon Valley is connected with Whitewater terrace.
Thanks to the couple who gave me oxygen...
Blue Moon Valley is really beautiful
Day6. Still in the high anti Japanese War, I still vomit up and down, insisted on going to Shuhe and Mufu, and finally came back to life with blood under the warm sunshine of Mufu. Because of my listlessness along the way, photographer a was able to take some photos. Shuhe is not far from the ancient city of Lijiang. It takes 10 minutes and 10 yuan by taxi. Some people say that Shuhe is Lijiang 10 years ago, and has never been to Lijiang 10 years ago. But Shuhe is really beautiful, not so crowded, not too commercial rendering. The clear water flows along the street, every family has dogs and cats, and they all lie lazily at the door to bask in the sun. The colorful flowers either hang down the wall or bloom in front of the door, and the shops close at eight or nine in the evening. This is the rhythm of Shuhe's sightseeing.
A wall of dongbawen behind
In Shuhe ancient town, there is an empty house with pavilions and pavilions. It is said that an international bar street was to be built, but the house was empty before it was opened. So many people who take wedding photos go there to take pictures. Friends who like to take photos can go and have a look.. If it wasn't for Gao fan, I would like to go to Longmen escort agency! I asked if there was still a long way to go in Shuhe ancient town. After walking for more than half an hour, I really didn't go if I had no strength
We got up early and went to the long-distance passenger station. It was 64 yuan per person to take the long-distance bus to Shangri La. It will be here in more than two hours. Shangri la is much smaller than Lijiang ancient city. There are several alleys in one center. We soon found our letuju, also known as Guangdong club. It's opened by Cantonese. The rooms and facilities are very good. The landlady is warm and frank. If she is not too tired, she really wants to participate in the Mid Autumn Festival Gala that night. Pack your bags and continue to set out. No one thought that the magical Napahai hike in the afternoon would start like this.
Napahai is a seasonal lake. In rainy season, it's lake water. In dry season, it's grassland. When we go there, it doesn't rain or dry. The wetland is full of red Stellera chamaejasme. Shangri la set out for Napahai 15 minutes by car, and was pulled to a riding place by a taxi driver. If you don't ride a horse, you can take the road around the lake by yourself. You can get a free ride all the way with your thumb up! It's a journey, a journey, a car, a stranger, a story. In this way, we stop and walk. It's about 30 kilometers around the lake. It's going to be dark, and there are fewer and fewer cars on the road, At this time, a white great wall came, and finally three great lamas from Songzanlin Temple took us back to the ancient city. This is the legendary fate.
Flowers of Stellera chamaejasme everywhere
This is a good village for tractors. Sit on the tractor and laugh, ha ha
It's like a computer desktop
Yak meat hot pot at night is delicious! Save your strength to turn the big warp drum, zaxidler!
Day8. Gao's rebellion was completely over, and it was full of vitality. One day, I went to Pudacuo Forest Park in the morning, went to Songzanlin temple in the afternoon, and ate a yak meat hot pot in the evening. I gave the unfinished Rhodiola to some little girls of Gao's rebellion who had just come from Guangdong. They wandered in the ancient city until 11 o'clock, feeling reluctant to part with it. A classmate and I also picked up a sister who was traveling from Beijing alone. She also met her in Lijiang by chance. She took a ride from Lugu Lake to Shangri La, where she came back from Lijiang for a whole day. Help her find a hotel to settle down, a classmate is praised as super warm-hearted big brother. ha-ha. The beautiful Pudacuo, the Holy Songzanlin temple, and the warm-hearted Lama master, in Shangri La, a clean land, people have become sincere and warm. Thousands of miles away, I believe it is a blessing for each other to get or give help, even if it is a one-sided relationship.
This is the holy lake in the setting sun in front of Songzanlin temple. It is said that the lake water here can shine on my past and present life. I stood by the lake for a long time and saw nothing. I just looked up and saw the golden sunshine in the distance.
DAY9。 Muyou arranged to get up early and go home obediently, and strolled around Kunming's huge airport. The trip to Yunnan left me and a classmate unforgettable memories. I came back with more than 30 photos, which have not been sorted out thoroughly. Finally, I embezzled the photo of my little sister from Beijing who went to Lugu Lake. Thank you all the way strange warm-hearted friends, dear a classmate and has been strongly supporting my selfless help, have you, how beautiful life.